Hybrid Fiber Optic Adapter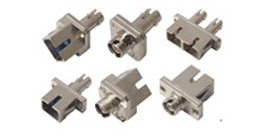 Hybrid fiber optic adapters are used to link two different kinds of fiber optic connectors; we supply a wide range of hybrid fiber optic adapters to fit SC, ST, FC, LC, and MU assorted connections. They are in single mode and multimode types and most of them are female to female structure.

Infinifiber.com fiber optic adapter offers a solution for any hybrid connections where 1st interconnect systems are incorporated into the 2nd system configurations or vice versa, these interconnect systems include SC/ST/FC/LC/MU. Our hybrid fiber optic adapter are with high precision sleeves, they are compliant to industrial and international standards, with competitive prices and reliable performances.