ST Fiber Optic Patch Cable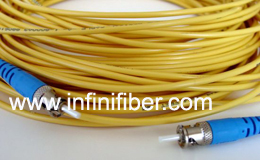 ST fiber optic patch cables are popular to use especially in short distance multimode fiber optic networks. ST features the Bayonet style housing for easy termination and high precision alignment that enable the whole patch cables with low insertion loss and return loss and back reflection. ST fiber patch cables from infinifiber.com are available in both single mode and multimode types.

ST connectors are metallic body and ceramic ferrule; there are various types with different cable types including round ST fiber optic patch cable and ribbon ST fiber patch cables. We supply the ST pigtail fiber cable and ST multi-fiber assemblies too. All of our ST fiber patch cords are compliant to industrial and international standards; they feature the good price and reliable performance.
ST to E2000 Fiber Optic patch cables
With the on-site, precision manufacturing equipment and our skilled workers, our ST E2000 fiber optic cable are reliable and 100% tested according to industrial and international standards, these ST-E2000 fiber cables are with flexible customization, good prices and very prompt delivery.