MTRJ Fiber Optic Patch Cable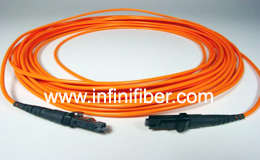 MTRJ fiber optic patch cables feature the plastic ferrule and duplex design. MTRJ fiber optic patch cables are female connector type and male connector types, the MTRJ is a born duplex connector that utilize precision molded MT ferrules pioneered by NTT, together with precision metal guide pins and precise housing dimensions to ensure fiber alignment when mating. MT-RJ fiber optic patch cords is reliable and simple to terminate.

We supply single mode and multimode MTRJ fiber optic patch cable that are compliant to TIA/EIA 568-A standards, MTRJ fiber optic patch cord from infinifiber.com are used in parallel optical interconnect between PC Cards and patch panels, interconnection for O/E modules and optical switch inter-frame connections. We supply the MTRJ fiber optic cables with fast delivery and competitive prices.
MTRJ to E2000 Fiber Optic patch cables
With the on-site, precision manufacturing equipment and our skilled workers, our MTRJ E2000 fiber optic cable are reliable and 100% tested according to industrial and international standards, these MTRJ-E2000 fiber cables are with flexible customization, good prices and very prompt delivery.